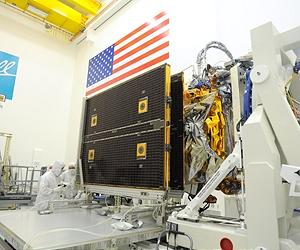 Ball Aerospace technicians perform a pop-and-catch partial deploy of the NASA National Polar-orbiting Operational Environmental Satellite System (NPOESS) Preparatory Project (NPP) weather satellite's solar array during this week's successful pre-environmental review in advance of flight environmental testing.
This is one of the final satellite activities being done prior to the Vibration testing, the first phase of environmental tests. Credit: Ball Aerospace.
A group of multi-disciplinary experts from NASA and NOAA, as well as a number of independent reviewers conducted the pre-environmental review of the five-instrument satellite.
The review team assessed the satellite test activities completed to-date, the completeness and adequacy of the environmental test plans, and determined the satellite is ready to proceed with its environmental test campaign.
"We are confident that the NPP satellite systems are robust and we are preparing the satellite to undergo rigorous environmental testing," stated Ken Schwer, NPP Project Manager, at NASA's Goddard Space Flight Centre. The launch is slated for October 2011.
The five-instrument suite includes: the Visible/Infrared Imager Radiometer Suite (VIIRS); the Cross-track Infrared Sounder (CrIS); the Clouds and the Earth Radiant Energy System (CERES); the Advanced Technology Microwave Sounder (ATMS); and the Ozone Mapping and Profiler Suite (OMPS).
NPP's advanced visible, infrared, and microwave imagers and sounders will improve the accuracy of climate observations and enhance capabilities to the nation's civil and military users of satellite data.
NPP is designed to provide continuity with NASA's Earth Observing System (EOS) satellites for climate observations and to provide the operational weather community with risk reduction for the next generation of weather satellites.